Meet Atilia, a rising star from Malaysia, that stunned many people at
Java Jazz 2008
with her great performance. Atilia is set to be the next crooners in Malaysia. She has crisp husky voice that sounds very beautiful. Her mom, Salamiah Hassan is not a stranger for Malaysians, one of the most renowned jazz and evergreen singers in the country.
Does the fact give her some advantages or setbacks? "No one wants to be the shadows of another.But with my mum, I take it as a blessing and priviledge. After all, without her, where would I be now?" she said. "She was my drive, my catalyst, my support and the shoulder that I cry on when I need to bawl out. In all, no one can have a better best friend than what I have with my mum."
Born in the southern state of Johor, and grew up in Kuala Lumpur, Atilia feels complete support from her family. That boost up her confidence in creating some of the finest melodies in Malaysia. The evident is revealed in her debut album, "Sangkar" that has launched in March 2007 and marketed domestically in June 2007 in Malaysia.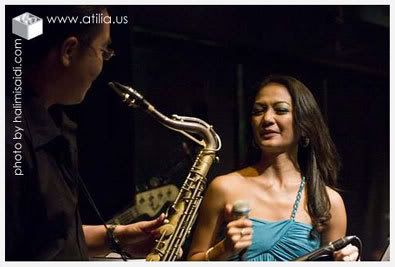 She's not a stranger to music industry at all. She began to sing at the early age of eight. She sang jingle for Kentucky Fried Chicken when she was 9 years old, and that started her career in music. When she was 12 years old, she represented
Indonesia
, Malaysia and Singapore for Regional Coca Cola Commercial that was held in England.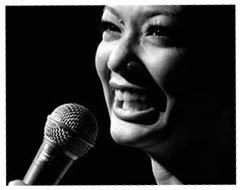 In 1996, Roslan Aziz, the Sultan of Soul in Malaysia, and the man behind some great names like
Sheila Madjid
and Zainal Abidin, and the head of Roslan Aziz Production (RAP) spotted her, then produced her first single "Pelangi Mimpi" (The Rainbow of Dream). Between 1996 to 2000, while waiting for her musical talent to brew even better, Atilia worked with Amir Yusoff's Aquarius album, with Sasi the Don's The Tide is High, with Poetic Ammo on Pass the Honey, and of course with the mum, Salamiah Hassan.
Her inspiration came from Sade, Earth Wind and Fire, Incognito, Brand New Heavies, Malaysian artists Sheila Madjid, Azlina Aziz, Khatijah Ibrahim, Fairuz Hussein, or Indonesian artists Adien, Maliq n d'Essentials, Tompi and the Bali Lounge album.
The album "Sangkar" (Cage), is a long awaited album. It's been in the making for 10 years, and now it's ready. She's ready to shine in the music scene. Atilia sings with the most simplistic manner, without vocal acrobatics to impress her capabilities of reaching several octaves. All she desire is to project and tell stories in a musical and soothing manner that will have you glued to your speakers and hear the crispness and clarity of her voice. This album is great, with 10 songs that will surely lighten up your days.
For further information about Atilia, you can visit her at
http://www.myspace/rajaatilia.com
and
http://www.atilia.us