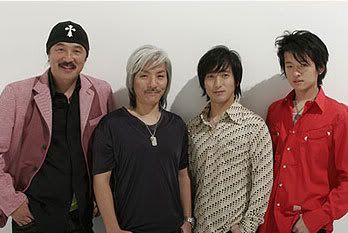 T-Square
is a
Japanese
jazz fusion
band that was formed in 1978. Its most successful lineup included
guitarist
Masahiro Andoh
,
bassist
Mitsuru Sutoh
,
saxophonist
,
flutist
and
EWI
player
Takeshi Itoh
,
keyboardist
Hirotaka Izumi
, and
drummer
Hiroyuki Noritake
. They are known for songs such as
Truth,
Japanese Soul Brothers,
Takarajima,
and
Omens of Love
among others.
Truth
was used as the theme for Japan's Formula One (F1) racing events from 1989 to 2000. Its successor,
Truth 21c
was used as the theme for Japan's F1 2001 and 2002, respectively, and other remixes of
Truth
were used from 2003 to 2006. The group is set to have a Concert Tour sometime in 2010, promoting the release of their new album "Jikan Ryoko" (which is Japanese for "Time Travel").
History
The Square (1978 - 1987)
The band was originally named "
The Square
" since 1978, with a semi-generic, Disco-type sound. In the early years of the band, the number of members had dwindled from 8 members (2 Keyboardists, 2 Guitarists, A drummer, a Percussionist, Sax player and Bassist) to 5 (Drummer, Keyboardist, Guitarist, Sax player, Bassist). The group's sound was changed to Rock music when
Prism
Keyboardist
Daisaku Kume
joined the band. This was a very short-term thing since Kume left in 1981. In 1982, Pianist
Hirotaka Izumi
took his place. Then drummer Tohru Hasebe was in the group from then to 1985. Drummer Hiroyuki Noritake replaced him in 1986, and then Bassist Toyoyuki Tanaka was replaced by Mitsuru Sutoh in 1987.
T-Square (1988 - 2000)
The band changed its name to
"T-Square"
in 1988, when it had its first tour and album release in the United States. 2 years later, Masato Honda debuted with T-Square, as a Backing Saxophonist on the album,
T-Square Live (featuring F1 Grand Prix Theme)
. The F1 theme being "Truth" from 1987. In 1991, T-Square's original Saxophonist,
Takeshi Itoh
, was replaced by former T-Square Backing/Support member,
Masato Honda
, who composed the opening track from T-Square's "New-S" Album (released in 1991), "Megalith". Honda carried Takeshi's Sax/
EWI
duties until 1998, when he left the group to pursue his solo career in 1997, after the release of "
Blue in Red
".
Takahiro Miyazaki
would replace him on Saxophone/EWI duties. At the same time, Hirotaka Izumi left T-Square, and was replaced by
Tadashi Namba
, who played Keyboards with Masahiro Andoh on the theme song from
Gran Turismo
, "Moon over the Castle" (from Masahiro's solo Album "Andy's", released 1996), as well as the T-Square arrangement of the song, called "Knight's Song" (from "Blue in Red", released in 1997). The group and all former and (at the time) current members played at Yaon de Asobu for their 20th Anniversary that same year. This is one of the last T-Square performances in which
Masato Honda
was involved (unlike
Miyazaki
and
Itoh
,
Masato Honda
didn't show up to the next 2 anniversary concerts).
T-Square Plus and Session Members (2000 - 2002)
In 2000, the band was divided into
T-Square
(Original and long-term Guitarist
Masahiro Andoh
, Original, (at the time) Former, and returning Saxophonist,
Takeshi Itoh
, and Random Session Musicians) and "Trio The Square" (Bassist
Mitsuru Sutoh
, Drummer
Hiroyuki Noritake
and Keyboardist
Keiji Matumoto
). This trio is the main reason for why T-Square had to use Random Session Musicians to record with. Though, the performance of "Friendship Live" had T-Square's Long-Term drummer, Hiroyuki Noritake along with (at the time) Support Musician, and Current full-time Keyboardist, Keizoh Kawano, as well as Support Bassist Kiyoshi Murakami. T-Square changed its name again, to T-Square Plus, then dropped the "Plus" from their name, but kept using Session Musicians until 2003.
The Square/T Comes Back (2003)
In 2003, they released an album called "Spirits", under their original name, "The Square". and retained most of their original members (partly due to T-Square having its 25th Anniversary on that year), and kept their Newcomer, Keizoh Kawano.
T-Square (2004-2008)
Since then, the Group hasn't had any more Name Changes, although, In addition to Mitsuru Sutoh being replaced by Katsuji Morioka in 2004, then Morioka getting replaced by Shingo Tanaka, (both bassists are Support Members). Keizoh Kawano supporting, then ultimately replacing, Hirotaka Izumi in 2005, Drummer
Satoshi Bandoh
replaced Hiroyuki Noritake in the same year, And T-Square's original Drummer, Michael S. Kawai, had returned to T-Square as a Percussionist and Producer from 2005 until 2008.
T-Square Super Band/Super Special Band (2008-Early 2009)
The band changed their name to "T-Square Super Band", to promote their 30th Anniversary Tour, and the fact that most former T-Square Members were involved in recording their new album called "Wonderful Days". Adding even more former members (Except for Shingo Tanaka, because he is a Support Member, and thus, not regarded as an Official T-Square Musician, hence why he wasn't in the "Super Band" to begin with). This began in Mid-to-Late-2008 after the end of their "Wonderful Days" Tour), the group changed its name to T-Square Super Special Band and played on Yaon de Asobu for their 30th Anniversary Show. This video was released on February 2009 as "The Square~T-Square since 1978: 30th Anniversary Festival".
T-Square (2009-Current)
With the release of their 2009 Album, "Discoveries" not too far off from the release of the aforementioned DVD, the group dropped "Super Special Band" from their name and cut the Members down to keyboardist Keizoh Kawano, drummer Satoshi Bandoh, Support Bassist Shingo Tanaka, and the 2 original T-Square members, Masahiro Andoh and Takeshi Itoh.
Discography
Lucky Summer Lady (1978)
Midnight Lover (1978)
Make Me A Star (1979)
Rockoon (1980)
Magic (1981)
Temptation of Shapely Legs (1982)*
The Water of the Rainbow (1983)*
Adventures (1984)
Stars and the Moon (1984)
R.E.S.O.R.T (1985)
S.P.O.R.T.S (1986)
Truth (1987)

This album features one of T-Square's best-known songs, and their most remixed song, which the album itself is named after, "Truth".

Yes, No (1988)
Wave (1989)
Natural (1990)
New-S (1991)
Impressive (1992)
Human (1993)
Summer Planet (1994)*
Welcome to the rose garden (1995)
B.C. A.D. (1996)
Blue in Red (1997)
Gravity (1998)
Sweet and Gentle (1999)
T-Square (2000)
Friendship (2000)
Truth 21century (2001)

This album contains arrangements of T-Square's best known songs, including, as the album name should imply, "Truth" (1987).

New Road, Old Way (2002)
Spirits (2003)
Groove Globe (2004)
Passion Flower (2005)
Blood Music (2006)
33 (2007)

The name of the album implies that this is their 33rd Album.

Wonderful Days (2008)
Discoveries (2009)
Time Travel (to be released in 2010)*
(* - Denotes T-Square albums sold under their native Japanese Names.)